BrickCase for iPhone 5/5S/SE Blue
By SmallWorks
$19.99
Sorry, this product is no longer available.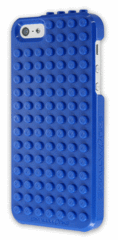 LEGO®
 

COMPATIBLE BRICKCASE IN BLUE
OVERVIEW
Show off your mad building skills with the coolest iPhone 5/5S case ever! This LEGO compatible hard case protects and let's you customize your iPhone 5 & 5S with LEGO bling.
Have fun wherever you go with a building platform in your pocket.
Build, modify, play, then take your own LEGO creations with you.
The BrickCase provides added environmental protection against bumps, scratches, chips and dirt.
Go ahead, brick your iPhone!
HIGHLIGHTS
Tough, high impact hard case in blue.
Fits all iPhone 5 & 5S versions.

Plays with Bricks®! Compatible with brick building block systems like LEGO, Mega Bloks, K'NEX, Best-Lock, Kre-O, etc.

One piece precision molded ABS build platform with special mini-figure platform on top.
Highly customizable and changeable.
Easy to make your own stand.
Front lip holds your phone off the table to prevent scratches while you play.
Made in the USA! Ba-da-bing!
TECH SPECS
Form Factor: Hard case
Material: ABS Plastic
Compatible With: iPhone 5, iPhone 5S
Product Dimensions: 4.75 x 0.55 x 2.4 inches
Product Weight: 0.6 ounces
MANUFACTURER INFORMATION
Item model number: BrickPhone5 Blue
UPC: 858079003183
Warranty: 30 days from purchase.


LEGO®
 

is a registered trademark of the LEGO Group of companies. All trademarked items are the property of their respective owners and licensees. This product is not endorsed or licensed from the LEGO Group of companies.